Posted on September 23, 2019 at 11:00 AM by Betsy Grabinski
The Brunnier Art Museum officially reopened with great fanfare on Thursday, September 19. With an estimated crowd of 600 donors, event sponsors, students and community members in attendance, the new all-glass front was revealed. Attendees were also introduced to a new public art installation (see next article for details), previewed three new exhibitions, enjoyed art-inspired desserts, learned about a new student fellowship and $5 million estate gift to University Museums, and listened to a custom-written fanfare played by student musicians.
Here are a few images from the event.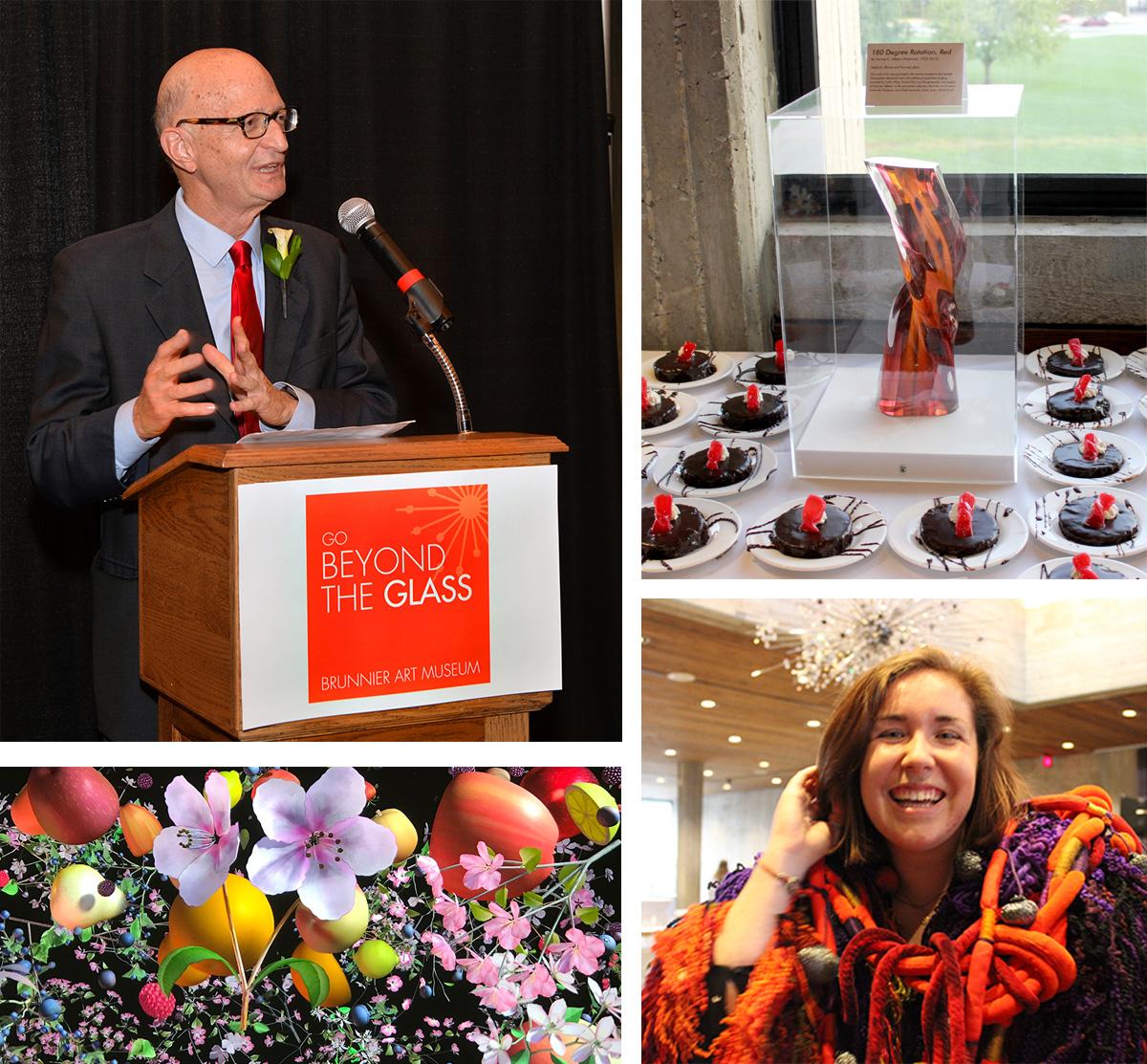 Images Above
Top left: Project Donor Jason Kogan speaks to event attendees about his late wife Lori A. Jacobson, whom the new gallery space in the Brunner Art Museum is named after.
Top right: Desserts were inspired by works of art in the permanent collection. This is
180 Degree Rotation, Red by Harvey K. Littleton.
Bottom left: Close up of Still-Life by Jennifer Steinkamp, which is on display in the Lori A. Jacobson Gallery at the Brunner Art Museum.
Bottom right: Student and Museums' Intern Jill O'Brien wears The Celebration Coat #41by Robert Hillestad.
Top left: Art Hilsinger and Barbara Jansen pose inside the newly-renovated Collections Vault, which was made possible through their generous donation.
Top right: Event attendees admire items in the Contemporary and Iowa Pottery Exhibition.
Bottom: The transformed front entrance to the Brunner Art Museum.
Additional details about the student fellowship and recent estate gift will be included in future email newsletters.
Click here to see the Beyond The Glass Reopening Gala video that includes the full program and additional highlights from the event.
Many Thanks to the Beyond The Glass Event Sponsors
Ann Campbell, Barbara and Bill Clark, Doris and Don Goering, Arthur Klein, Beverly
and Warren Madden, Jere Maddux, Clifford Smith, JaneAnn and Michael Stout,
Carole Horowitz in honor of Darrell 'Wess' Wessell, Stoltze & Stoltze Family Dentistry, Brackets Custom Window Coverings, Gateway Hotel & Conference Center, Green Hills Retirement Community, Northcrest Community, and Michael Davies of H.J. Brunnier Associates.